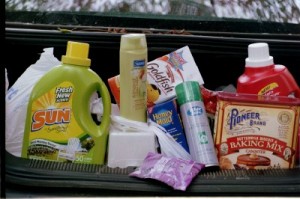 Here you will find a list of on-going needs that can be dropped off at our thrift store, Southern Finds, and will be delivered directly to our shelter.  In order to offer daily necessities to our clients free of charge, we greatly depend on donations from the community.
A special request:  We have 11 twin beds in our shelter.  The comforters on these beds are several years old and very worn. We would love to see new comforters on all the beds.  It would be so awesome to have at least 20 new comforters, because then, when a mother and child need to take bedding with them, we will have extra and can give them a complete set with comforter included!

Thank you to Girl Scout Troop 10609 for your generous donation of comforters!
Household Items

Paper napkins
Paper towels
Toilet paper
Trash bags
Laundry soap – must be high efficiency
Bleach
Cleaning supplies
Dishwasher soap/detergent
Sponges
Ziploc bags
Foil
Kleenex
60 watt light bulbs

Food

Canned foods
Cereals
Sugar
Flour
Nonperishable food items

Toiletries

Hairbrushes/combs
Lotion
Shampoo/conditioner
Hairspray/gel
Deoderant
Makeup
Ladies razors/shaving cream
Toothbrush/toothpaste
Q-tips
Floss
Tampons/Pads

Women

Socks
Pajamas
Underclothes
Slippers
Clothing

Children

Baby diapers/wipes
Baby shampoo
Baby powder
Clothes
Socks
Underclothes
Videos
Coloring books/markers
Puzzles/activity books
Games
Toys
Boxed fruit juice
School supplies
Bookbags
Lunch boxes

Miscellaneous

Alarm clocks
Grocery gift cards
Gas cards
Long distance calling cards
Dishtowels
Twin sheets
Comforters