North Georgia's Got Talent
NOA's First Annual Talent Show – October 14, 2017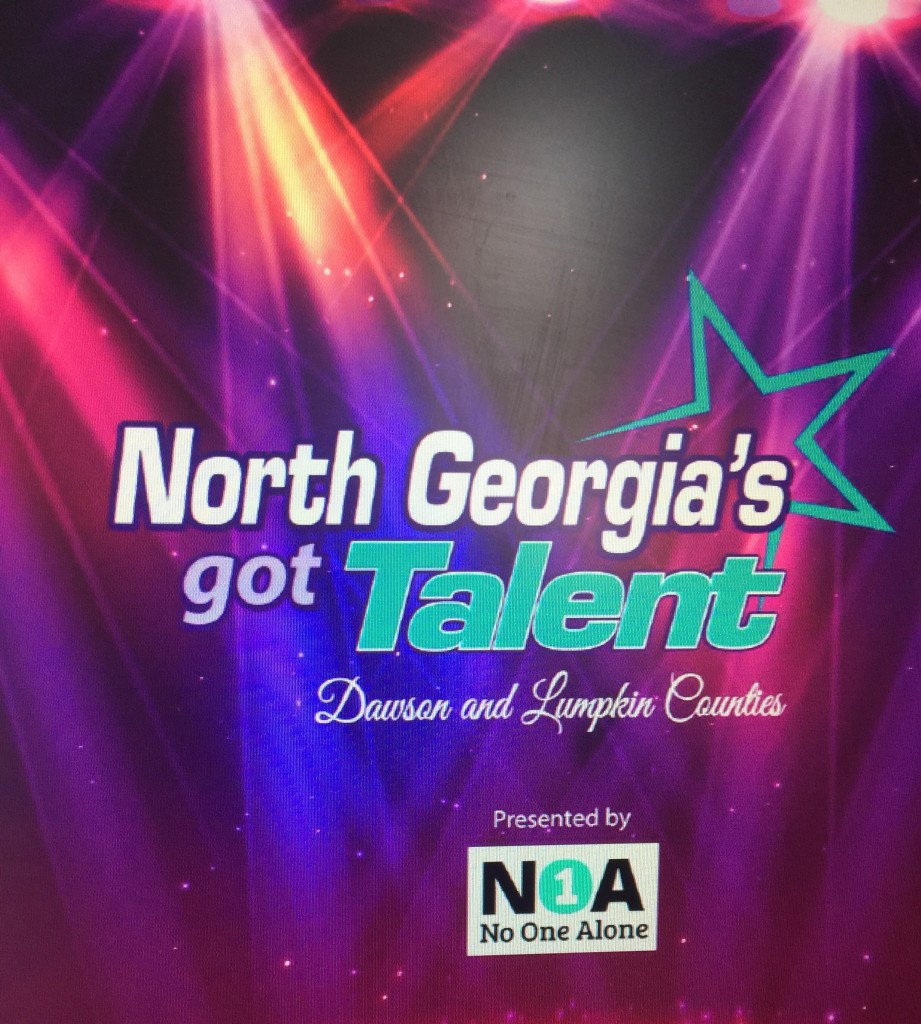 Calling All Talent….
Singers, Dancers, Poets, Comedians, Magicians…
Auditions will be held May – August
Over $1000 in prizes (1st, 2nd and 3rd place)
$25 To Audition ~ $5 To Watch Auditions ~         $20 Entry fee to Finale
Reserve your audition slot by clicking on the link :
Or By Mail: NOA PO Box 685, Dahlonega GA 30533 (be sure to print and send application form with payment: NGGT-Act-Application
For More Info email Jean at: jbaker@noonealone.org or call 706-372-4260
Interested in Sponsoring this event or Advertising in the Program click here

: 

NOAsponsorandAdvGuide

Finale To Be Held at the Dawson County Performing Arts Center

There will be 3 sets of auditions held at area auditoriums such as the Dawsonville Performing Arts Center, the Hoag Auditorium at UNG, and Lumpkin County High School between May and August (dates and locations TBA).

Walk-ins may be allowed, time permitting.  The act should feature a 90 second demonstration of talent.  A second 90 second (back-up) performance should be prepared in case the judges request more to evaluate.  Up to 5 acts will be selected at each audition (some alternates may be named).   Finalists will be posted on the NOA website, www.noonealone.org/talent by 6:00pm the day after each audition.

1st place will receive $500, 2nd place gets $250, and 3rd place takes home $100.

People's Choice, which is determined by the act that gets the most votes in the form of 1 vote per $1, will receive $150 or 15% of their "votes" (whichever is higher), and 2nd and 3rd place People's choice will get 10% of their votes.  Votes can be made by cash, check (by mail before October 7th), or credit card (online at www.noonealone.org/talent) and are due at or before the event.  Votes/donations can be made up to 15 min. after the show in the contestant's boxes.

If the selected acts want to get votes by selling advertisements for the program, sponsorships, tickets and/or donations they must be submitted by September 1st and will count toward people's choice votes (see attached flyer for details)

Guests may watch auditions for $5 per person.

Admission to the Show on October 14th is $20 and can be made by mail, online or at the event.

Participants under the age of 18 must have parental consent and be accompanied to rehearsal and the event by a parent or legal guardian.