North Georgia's Got Talent

NOA's 3rd Annual
Talent Show October 13, 2019
Auditions being held NOW!
---
Auditions will be held every Monday 8-10 PM at Shenanigans
during open Mic with Tommy Pirone and are viewable on Facebook.
Every Thursday from 7-9 PM at Crimson Moon
Video auditions will be accepted after registration application is completed online.
For more info please call Jean Baker at 706-372-4260
Contestants can sign up online or at the restaurant.
The entry fee is $40.00
To register online please click here
---
Congratulations to the 2018 North Georgia's Got Talent Winners
13 Acts competed in this year's talent show and the winners were:
1st Place went to: Hughes Taylor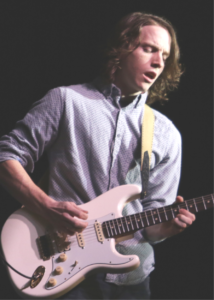 2nd Place went to:  Cash Laws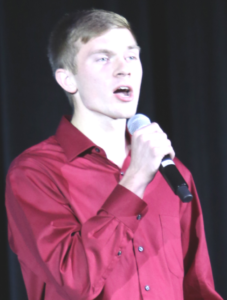 3rd Place went to:  Moses McKinzey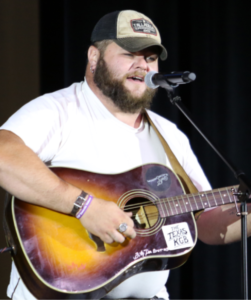 Peoples' Choice went to: Elliott Prather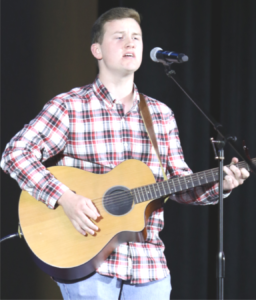 ---
Get To Know The 2018 Contestants:
Contestant #1
Jessie Albright
Jessie Albright is a Vermont raised singer/songwriter, self-taught guitarist, and multi-instrumentalist. Jessie graduated college with a degree in Jazz Vocal Performance and Studio Recording. She has been performing around Vermont and Massachusetts since age 16. Jessie moved to Georgia in 2014 after releasing her first album, Waiting Patiently, which is now available on iTunes! Jessie's influences include artists such as Pink Floyd, CCR, The Beatles, Susan Tedeschi, Grace Potter, Etta James, and The Moody Blues.
Jessie Albright perform in multiple projects – her solo acoustic music featuring occasional guest performers, and the Jessie Albright Band which plays an eclectic array of covers ranging from Susan Tedeschi to Johnny Cash. Jessie is also the lead vocalist for Atlanta based original rock band, Last Chance Riders.
Contestant #2
Grace Hodges
Grace Hodges is a 23-year-old stay-at-home mom with two kids, Bella who is 4 and Jackson who is 4 months old. She is a licensed esthetician and makeup artist. Grace's passion is in the music and beauty industry. She has been singing for as long as she can remember and has participated in several shows and musicals. Her babies are her everything and she dedicates this talent show to them!
Contestant #3
Hughes Taylor
Hughes Taylor is an energetic and ambitious blues artist from Macon, Georgia. HE is known for his impressive and accomplished guitar playing and unique electric style that infuses traditions blues roots with upbeat and fast-paced blues and classic rock. The Hughes Taylor Band is a blues/rock power trio that is reminiscent of the Jimi Hendrix Experience, Stevie Ray Vaughan, and Cream.
Following his successful first album, Hear My Melody (2016), Hughes released his sophomore album, Restless, in May of 2018. You can find his music everywhere online and streamed via Spotify, Pandora, and more. Find it on your preferred music retailer by going to smarturl.it/ht-rstlss .
Contestant #4
Starr Phipps
Starr Phipps is an 18-year-old Contemporary Christian Recording Artist from Gainesville, Georgia. She has studied for 8 years with the Academy of Performing Arts and the North Georgia School of Gospel Music. Her career began in theater at the age of 7. When she was 11, she received her Calling to sing the Gospel. Since then, she has sung at over 500 churches, as well as festivals, fundraisers, weddings and funerals, Lakeshore Mall, Mall of Georgia, Disneyworld, Six Flags, Gwinnett Braves, and the Atlanta Motor Speedway. She has performed at the Gold Rush Festival and the Hancock Park Stage for the past 3 years, and performed at Dahlonega First Baptist Church on First Night 2018. She recently travelled to Hilltop Studios in Nashville to record her first album, STARR PHIPPS Sings the Gospel. Next summer she will be opening for Jason Crabb at Gospelfest at the North Georgia Trade Center. She is happy to support No One Alone.
Contestant #5
Adrian Ramsey
Adrian Ramsey is a 13-year-old and resides in Cornelia, Georgia. She is currently an 8th grader at Hillard A. Wilbanks Middle School in Demorest, Georgia.
Adrian has been involved in numerous theatrical performances including Seussical, Jr., Honk, Jr., James & the Giant Peach, The Little Mermaid, Jr., Shrek, Jr., Annie, Jr., and the most recent, Once on This Island. She has also participated in numerous performance and refital such as Chattahoochee Moutnain Fair Talent Show, Kiwanis Talent Show, Smokey Mountain Theater of Performaing Arts, Big Red Apple Festival, Mountain Laurel Festival, Wilbanks Got Talent, annual Piano and Singing Recital, & auditions for America's Got Talent is Savannah, Georgia.
Adrian has been a voice and piano student of Mrs. Lillian Wayne-Buck at Mrs. Lily's Singing and Piano for a little over three years.
Adrian has had a passion for music and singing from an early age. She also enjoys singing, craft work, reading, and surfing YouTube. Adrian loves to sing and perform with dreams and aspirations of one day being on Broadway.
Contestant #6
Luke McElliot and Connor Green
Luke McElliot (14) and Connor Green are cousins! They enjoy singing together.
Luke Attends 9th grade at Lumpkin County High School. He has performed numerous times with the Holly Theater, including playing Frog in Frog and Toad, Jr., Hugh in Dragon Tale, and being part of the annual musical theater competition team. He is also currently in Oklahoma! at Lumpkin County High School.
Connor attends 4th grade at Lumpkin County Elementary School. He has also performed many times with the Holly Theater. You may have seen him as Captain Bones in Pirates Past Noon, Sir Bryan in Dragon Tale, Santa in Elf, Jr., Cousin Itt in The Addams's Family, or in the Ensemble of Lion King, Jr. JTF team.
Contestant #7
Alyssa Sinopoli
Alyssa Sinopoli is fifteen-years-old. She is currently in the 9th grade at White County High School. Her hobbies include playing the piano, cheerleading, and spending time with family. Alyssa participates in sideline and competitive cheer for the varsity cheer team at her high school. She has played piano for seven years and enjoys taking part in local talent shows. Alyssa is supported by her loving family, including her Mom, Maria, dad, Angelo, and brother, AJ. She is very grateful to be performing tonight and she appreciated the opportunity to participate in this program.
Contestant #8
Hendricks Coates
Hendricks is 14-years-old, is entering the 9th grade, and has been singing for the past 7 years. As a member of the Grammy Award winning Atlanta Boy Choir, he was the lead soloist. The Choir is an ambassador for Georgia, performing across North America and Europe. Je was selected to participate in the internationally released film, Captain America III, where again, Hendricks appears as the soloist.
Locally, he has performed in many plays and shows, such as The Lion King, The King and I, ABBA, and Beauty and the Beast. Hendricks has won numerous awards and accolades for his talent including twice winning first at the "Who's Got Talent" at the Smoky Mountain Center for Performing Arts in Franklin, North Carolina. In a recent national contest, he was recognized as one of the top male vocalists in his the country is his age group.
Contestant #9
Moses McKinzey
Moses McKinzey is a local artist born and raised in Dahlonega, Georgia. At the age of 15, he started playing guitar and writing his own music. He performs in many different genres, from Gospel to Country, Southern Rock to Blues. Ge gas even had a song features in such films as Trailer Park Shark,  and a singing part in the Hallmark movie, Christmas in the Homestead. He is considered to be an up-and-coming performer in the North Georgia Music Scene.
Contestant #10
Kennedy Hoard
Kennedy, 12, lives in Dawsonville where she is a 7th grader at Dawson County Middle School. She serves as member of the DCMS student council and performs with the school chorus. Kennedy was selected to represent Dawson County in the District 9 Honor Chorus last year. In her free time, Kennedy is a member of the ATA All-Stars competitive cheer gym. She performs with both the Junior Level 2 Iron team and the Senior Level 3 Platinum team, and was a member of 8 National Championship teams during the 2017/2018 competitive cheer season. Kennedy enjoys reading, attending summer 4-H camp, paddle boarding, swimming, and singing. She has appeared as Captain Hook in the summer children's production of Peter Pan at the Holly Theater in Dahlonega, Georgia, and attended summer acting camp at the University of North Georgia.
Contestant # 11
Elliott Prather
From Ball Ground, Georgia, Elliott Prather is a young musician who plays mainly country and southern rock music, but as his father likes to say, "He can play anything from 'Amazing Grace' to AC/DC."
Ever since he was little, Prather has enjoyed music. He would put on shows in his family's living room for an imaginary crowd and enjoyed playing musical video games like SingStar and Rockband. At about eight years old, he started sharing his love of music by singing in church and at his elementary schools talent show. In 2011, he began taking guitar lessons at age 10 and has since moved on to play a variety of instruments including mandolin, fiddle, piano, bass guitar, and drums. At age 13, he started posting videos of himself covering some of his favorite songs on his YouTube channel that shares his name. He wrote his first song at age 12 and his since went on to write numerous original songs.
Now at age 17, Prather plays and sings at local venues, entertaining patrons and new faces most Saturday nights. He enjoys giving people an outlet for their feelings through his music. "I want people to hear my music and feel something," says Prather. "I want people to listen to my songs and sing along to them, relate to them, and feel connected with not only me, but everybody else who's felt the same way I felt when I wrote them." He hopes to release his own album someday which would include his original songs and possibly his own renditions of songs that he enjoys from other artists.
Contestant #12
Cash Law
Cash is 18 years old. He is a senior this year and is looking forward to graduation. Cash has been sinning or performing for the past 10 years and counting. He currently sings in his church and has performed over the years at festivals, talent competitions, corporate or community events, musical theater, and takes singing and dance classes regularly. Cash considers his ability to perform a blessing from God and loves to share it every chance he gets. He is always excited to perform for an audience and hopes everyone enjoys hearing him sing as much does to singing it.
Contestant #13
Nealy Webster
Nealy is 12 years old and is in the 7th grade at White County Middle School. She has been performing since she was 7 years old. She performs throughout the year at many community events. She sang the National Anthem at 5 Gwinnett Braves games and 2 Atlanta Braves games. She has performed the roles of Annie, in Annie, Jr., Tinkerbell in Peter Pan, Jr., Ursula in The Little Mermaid, Jr., Scat Cat in The Aristocats, Jr., Young Ti Moune in Once on This Island, Jr., and Rafiki in The Lion King, Jr. Along with singing and acting, she plays the oboe in the middle school band and is now learning how to dance and play piano and guitar. Nealy also loves to perform and spend time with her family and friends and especially loves to play with her dog Parton, names after her favorite county performer Dolly Parton. She lives in Cleveland with her mom and two older brothers, Nolan and Nicholas. This is her second year performing at North Georgia's Got Talents and she is very thankful to be part of this event again this year!
---
2017- NOA's First Annual Talent Show – A Huge Success:
Awards:
Peoples' Choice Voting
1st Place – Stefanie Stewart, a junior at UNG and a dancer
2nd Place – Marisa Allen, Dahlonega resident, and singer
3rd Place – Naomi Roberts, a 12-year-old White County Middle School 7th grade singer
Judge's Choice
1st Place – Isabella Martinez-Amos, a student of Middle Tennessee State College and a singer
2nd Place – Nealy Webster, 11-year-old Cleveland resident and singer
3rd Place – Kennedy Hoard, 11-year-old Dawson County Middle School 6th grader and singer
Congratulations!
Thank you to All the Finale Acts that Participated in this
Amazing Fundraising/Awareness Event
Marisa Allen
Kelly Cate
Vicky Condrey
Wendell Frady
Alisha Green
Brittany Green
Georgia Sensations Chorus
Kennedy Hoard
Melissa Little
Isabelle Martinez-Amos
Jimmy McGurt
Naomi Roberts
Annabel Rushing
Izzy Smith-Santiago
Kadance Stanford
Stefanie Stewart
Nealy Webster
NOA's first annual North Georgia's Got Talent competition draws crowds
It was a night of singing and spectacle as No One Alone, a local domestic violence shelter, held its first annual North Georgia's Got Talent event to raise funds for its shelter that serves Lumpkin and Dawson County. Featuring 17 contestants from around North Georgia, the event drew a large crowd and raised over $12,200 to go towards supporting victims of domestic abuse.
With operating costs of over $95 a day, fundraising is essential to NOA in order to provide for its emergency shelter which provided services to 1,149 locals in 2016 as well as responded to 3,759 crisis calls. NOA's first annual talent show provided an opportunity to raise funds while simultaneously showcasing the talent that can be found in the North Georgia mountains.
Held on Oct. 14 at the Dawson Performing Arts Center, North Georgia's Got Talent began with NOA board member Della Lago thanking the sponsors and donors that made the event possible. Lago went on to describe the importance of being informed on your local emergency shelter.
"The majority of the time, someone who is experiencing any kind of domestic violence, their first call is generally not to the crisis line because they don't know us," Lago said. "Their first call is going to be to you, their friends and family. It's important that you have this information because there have been times when a father, a brother, a mother has called our crisis line and said this is what my loved one is telling me, what do I do? They're already feeling very vulnerable, beat down and confused. That's why it's important that you have this information."
Following Lago's introduction, the two masters of ceremony Gina Galbiati-Gailey and G. Richard Hoard took to the stage to open the event. Gailey is a professional country music singer-songwriter who has shared the stage with country giants such as Ricky Skaggs and Jamey Johnson. She is a Georgia State University graduate but also attended the University of North Georgia from 1998 to 2000. Hoard is a University of Georgia graduate and an accomplished local writer having published four books including his latest novel "The Missing Boys," released in July of this year.
Before introducing the nights judges, the two hosts brought the crowd to life with a duet of "Jackson" originally by Johnny and June Carter Cash. Hoard began the announcement of the judges by introducing Brianna Bass. An Atlanta native, Bass has a plethora of qualifying skills including ballet instruction at Studio Go Dance in Atlanta, 11 years as an Advanced Actor Combatant and a background in choreography.
The judges to her left, Jessica and Jordan Bennett, are bi-coastal TV and Film professionals who recently relocated to Atlanta. Jordan specialized in post sound design, mixing and composing. Jessica is a casting associate and stunt woman who has serves on projects such as "Corbin Nash," "Making History" and "The Walking Dead."
For the next two hours, the audience was wowed by a range of performances including musical covers, original songs, dance performances and even a comedy act by local business owner Vikki Voorhees-Condrey. The talent show featured two blocks of performances and an intermission where the audience could vote for the People's Choice Award via their admission ticket as well as additional dollars for the cause.
When the talent-filled evening came to an end, it was time to announce the first annual North Georgia's Got Talent winners. Beginning with the People's Choice Awards, third place went to 12-year-old singer Naomi Roberts from White County. The second place People's Choice Award went to Dahlonega resident and singer Marisa Allen and the first place People's Choice Award went to UNG Junior Stefanie Stewart for her lively dance routine.
The judges took to the stage as time came to announce the official first winners of North Georgia's Got Talent. Third place, along with $150, was awarded to 11-year-old Kennedy Hoard for her rendition of Grace Vanderwaal's "I Don't Know My Name." The second-place prize of $250 was given to 11-year-old Nealy Webster for her patriotic performance of the "Armed Forces Medley." The grand prize winner of $500 and the first annual North Georgia's Got Talent went to Dahlonega native Belle Gray for her cover of Foxing's "The Medic."
After a few more rounds of cheers, the talent show concluded with a special thanks to all the individuals who made the event possible. Among these was the Event Production Director Neva Garrett who explained to the Vanguard what she took away for her involvement with NOA's talent show.
"Well you know I do a lot of showbiz in town. I've done community theater, I've done a little professional theater, and a lot of educational theater," said Garrett. But to be able to use my skills and what I feel to be my gifts knowing that someone is being benefitted in ways other than just entertainment, to know of the importance of the ministry is thrilling…I gave a pep talk to the talent, about how because of being a part of this program for NOA and bringing awareness, raising money; it seems trite but everyone's already won.":