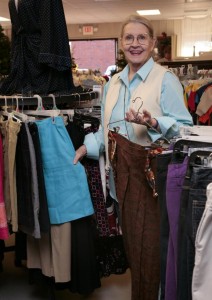 Shop, Recycle, and Give to End Domestic Violence
100% of the proceeds from Southern Finds benefit victims of family violence.  You can make a difference by shopping here and/or by donating your gently used and unwanted items.
Please help us keep unwanted items out of local landfills by donating your unwanted textile items, such as:
•Clothes (can have small tears and stains)
•Paired shoes, belts, purses, and wallets
• Towels, sheets, pillows, books, and more….
All donations are tax deductible and pick ups are available.
20 Memorial Drive, Dahlonega
Hours: Monday – Saturday 10:00 am to 5:30 pm
Closed on Sundays
For more information about Southern Finds, click on the following link: http://noonealone.org/southern-finds/
Or call 706-867-6167
"I enjoy shopping here because I feel like I'm doing my part to help victims of domestic violence and the environment by donating my unwanted clothes." – Nicole